Weir Here Over There
Showtime:
Wednesday, June 12, 2013 - 5:30pm
Weir Here Over There
Live Streaming from Terrapin Crossroads
Wednesday, June 12 at 6 p.m. PT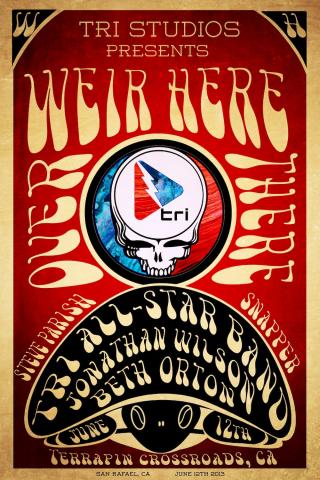 We invite you to join us for a very special night of music featuring the TRI Allstars; Bob Weir, Dave Schools, Jason Crosby, Jay Lane, Jeff Chimenti, Leslie Mendelson and Jonathan Wilson with special guests Beth Orton and Grateful Dead archivist, David Lemieux (and don't forget Snapper!). Come be a part of our live studio audience and join the festivities! We are broadcasting live from the Grate Room at Phil Lesh's Terrapin Crossroads in San Rafael, California.
Tickets go on sale at the Terrapin box office Tuesday, June 4 at 4 p.m. Tickets will be available online through Terrapin Crossroads on Wednesday, June 5. Please note: This is live studio taping. There will be no ins and outs. Doors open at 5 p.m. and show begins promptly at 6 p.m. Audience members will have the opportunity to ask Bob Weir, Steve Parish and other couch guests questions as part of our variety live show. If you can't join us in person, be sure to tune in to all the fun online at www.tristudios.com/watch   
Tickets:
General Admission - $75
VIP - $100
Includes:
Event poster (seen here) signed by Bob Weir
Event t-shirt